✨ONE DAY ONLY BABY😍
February 2019
Ohhhhh Weee! We celebrating 500K followers on the gram that we been building for a while! How exciting that you are a part of that greatness boo!
I am feeling Extremely generous, so for ONE DAY ONLY I decided to do a 500K celebration sale where you can get 50% Off my Biggest and Sexiest ebook eva!!!
Thats right baby!!! You have until Friday, February 8th 2019 at Midnight to snatch this up from $48 to $25 😱 😱Use Code "500K" at checkout to get it on and poppin!
So get that much Needed "Bella In Yo Cup", fill er up and don't forget to send me screenshot of ya favs!!!
LOVE DA LOVE 💋 💋
New Full Force Ebook: The Black Bondage Thigh High Series "At Home Edition"
Includes: 50 HD Extremely Sexy Photos not posted anywhere else
Use Code: "500K" for Half Off "Black Bondage Visual Ebook"
When: Until February 8th at Midnight
How: Digital download to any electronic device Instantly
Code Expires: February 8th 2019 Midnight
Where: www.arabellasruby.com
I LOVE YOU!!! Sprinkle Sprinkle xoxoooxoxxo
Friendly Reminder:
What: "Black Bondage Thigh High Series" Visual Ebook
Where: https://rubyrenterprise.samcart.com/products/black-bondage-thigh-high-series-at-home-edition/
How: Automatic download to any electronic device
Love,
Arabella S. Ruby aka The Original Unicorn
www.arabellasruby.com
www.instagram.com/arabellasruby
www.twitter.com/arabellasruby
www.snapchat.com/add/goldenpeach7
---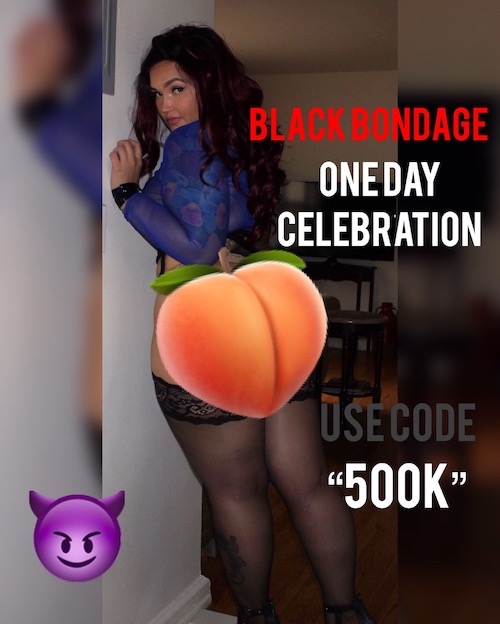 ---